Michael D. DeVine, MS, LPC, LICDC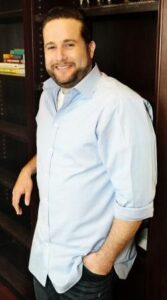 My name is Michael Devine and I am a Licensed Professional Counselor Supervisor and a Licensed Independent Chemical Dependency Counselor in the states of Texas and Ohio. I own and operate a private counseling & coaching practice in Dublin, Ohio. I was born and raised in Columbus, Ohio with only taking a short detour to Dallas, Texas while I was in graduate school and starting out my private practice.
I have a Bachelor's Degree in Psychology from Otterbein College and a Master's Degree in Psychology from the University of North Texas where I gained specialized training in Marriage & Family Counseling, Individual Psychodynamic/Cognitive Behavioral Counseling, Career Counseling, and Psychological Assessment.
While in graduate school, I was taught that the best clinicians in this field have eclectic backgrounds that they draw from to help their clients best. Taking this advice to heart, I made sure that I had a wide array of clinical experiences during my practicums and internships. Below is a listing of some of those sites:
UNT Counseling & Testing Center
UNT Psychology Clinic
DFW Center for Autism
Nelson Residential Treatment Center for Children
Hickory Trail Behavioral Health Hospital
Adapt Mobile Crisis Assessment
The Irving Family Advocacy Center
Mind Matters SPECT Imaging Clinic of Texas
The DNA of my private counseling and coaching practice centers around the mind/body connection and treating the individual client as a whole. My professional mantra is that I treat a person, not a diagnosis. Moreover, I believe strongly that we must look at the person as a whole which is why I bring in many principles from neuroscience, health/nutrition, modern psychological research, and psychopharmacology.
In addition to my private practice, I am a published author with my most recent book "Failure to Launch" helping me become one of the most respected and knowledgeable counselors on the topic of failure to launch young adults. More recently, my success with executive coaching, talent selection, and family business advising led to the creation of my business consulting firm DeVine Consulting.